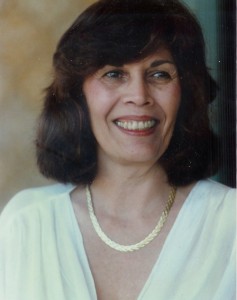 Sometimes our families influence us in surprising and unexpected ways. Lauren's mom, Arlene was a big time foodie before the Food Channel was established and the term celebrity was combined with chef. She took cooking classes, read tons of cook books, and had a wall in one of her bedrooms dedicated to her cookbook collection. Each growing season, she turned her backyard into a clinic on tomato growing and was even featured in the LA Times at one point due to her special way of growing tomatoes. She loved food so much. She would call companies to tell them how much she enjoyed some new food product she had tried. Her passion was good food and she enjoyed cooking, eating, and talking about food.
Arlene passed away a few years ago. Lauren and I inherited a small acrylic file container full of index cards with her special recipes, her favorites, and things she loved. These were Arlene's secrets and favorite recipes for many things, some Lauren could not recall her ever making. Arlene passed away while we lived in Canada when we were just starting to think about moving to Kauai to start our gelato and chocolates shop. We were so busy with planning the move and the opening of our new store on Kauai, we never really looked through the dozens of recipes.
There are times that family and business merge into something very special and meaningful to us.
Several years later, we had moved to Kauai and opened Papalani Gelato. We were developing some new chocolate recipes and thanks to a suggestion from a customer of ours, started looking into chocolates with marshmallow. While doing research on marshmallow recipes, Lauren remembered the little box and thought she had seen a marshmallow recipe. We went through the cards and sure enough there was a recipe for marshmallow and it looked really good. So we made a batch and loved it.
In our chocolate shop we started dipping the marshmallow in chocolate, making smores, adding some caramel to the marshmallow and each of thesee became popular with our customers from the first day they were available for sale. The recipe was such a hit that, thanks to another family connection, Oasis on the Beach, starting using it in some of their dessert recipes. It even made it onto their special Thanksgiving menu this year.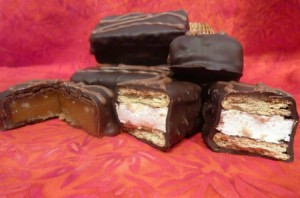 We love our family and our business. There are times that family and business merge into something very special and meaningful to us. Having our kids work side by side with us at times, being able to share with our friends and family special treats. Among many special moments we have had over the years, making Arlene's marshmallow ranks up there pretty high.
We know that Arlene's love for good food continues in our chocolate shop every day. Her love for food is on display and we know she is smiling each time someone comes in and buys one of these wonderful chocolates. Mahalo Arlene!