Hawaiian Goodies & Gifts
Papalani Gelato® is proud to carry a select line of delectable Hawaiian gift items you're sure to love. Each has a special connection to the islands where they are made: high quality ingredients sourced locally, a dedication to growing or making products in an environmentally friendly way, and supportive of our local spirit and economy.
Hawaiian Grown Chocolates
Hawaii is the only state producing chocolate. The production level of chocolate in Hawaii is still small compared to most places producing chocolate today. The unique soil composition, weather, and growing methods produce a unique flavor profile unlike other chocolate in the world. Also, the amount produced means Hawaiian chocolate is one of the rarest chocolates available and much harder to find. The Hawaiian chocolates we feature are artisanal and produced by small family businesses.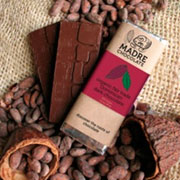 Madre Chocolates
hand made from Hawaiian grown chocolate and other ingredients.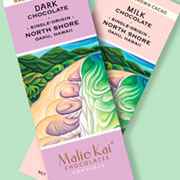 Malie Kai Chocolates
Grown on the island of Oahu. The milk and dark chocolate bars we feature include cacao nibs which adds to the chocolate intensity of each bar. The coffee flavored gift set combines Oahu grown Chocolate and Kona Grown Coffee. Two of our favorite flavors and truly a taste of Hawaii. Rare and distinctive chocolate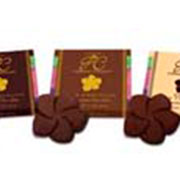 Original Hawaiian Chocolate Criollo Plumeria
A unique chocolate. Criollo is one of the rarest type of Cacao Beans in the world only used in ~10% of the Chocolate made in the world. Unique flavor profile and a rare chocolate treat. For chocolate lovers who desire a unique chocolate experience.

Original Hawaiian Chocolate Company Products
Grown on the Big Island of Hawaii. The first company in Hawaii to grow and process their own chocolate. A single origin chocolate with a very earthly flavor profile. Hand made. Sun dried. Made with Aloha!
Hawaiian Made Gifts
We are proud of our Made in Hawaii products and gift collection. We find and feature the best made products from throughout the Hawaiian Islands. Some of these are made from Hawaiian recipes in small batches. These products help create a unique Hawaiian shopping experience for those visiting the island of Kauai. Papalani Gelato® is a Kauai Made store as well.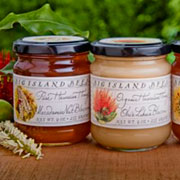 Big Island Bees Honey
Produced on the Big Island of Hawaii. Our gift packs include three varietals of Hawaiian honey, each unique in color, texture, and taste. These differences are attributable to the diversity of blossoms blooming at distinct parts of the island at different times of the year. The honeys are single floral and because they are single floral you'll be startled by the purity of the tastes. Another unique taste of Hawaii! Organic, Family Farmed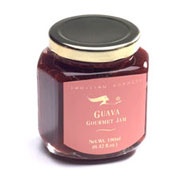 Tahitian Goddess
Made on Kauai. Hand made from locally grown fruits, vegetables, and spices. Hand made in small batches using time honored cooking customs from Tahiti and Hawaii.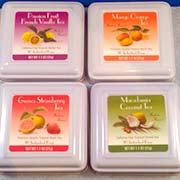 Island Heritage Tea Tin
Made on Oahu. Unique tropical tea flavor mixes in designer tins. A great gift for the tea lover in your life! Macadamia Nut Coconut Tea, Mango Orange Tea, Passion Fruit Vanilla Bean, Guava Strawberry

Island Heritage Cookie Tins
Made on Oahu. Specially designed tins inspired by the spirit of Hawaii. Great tasting cookies! Four different types of cookies. Macadamia Nut Shortbread Tea Cookies, Chocolate Dipped Macadamia Nut Biscotti, Chocolate Dipped Pineapple Macadamia Nut Biscotti, Macadamia Nut Cookies,

Kauai Nut Roasters
Made on Kauai. Hand made in small batches on Kauai. Great flavors combined with various types of freshly roasted nuts. Family owned and operated business.

Kauai Chocolate Company Chocolate Opihi
Made on Kauai. Hand made Chocolate Opihi. This product made by the Kauai Chocolate Company is truly unique. A Kauai Kookie, topped with caramel, and a whole macnut dipped in either dark or milk chocolate. One of our favorites!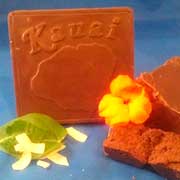 Kauai Chocolate Company Chocolate Bars and Fudge
Made on Kauai. Hand made Chocolate Bars and Rich Fudge. No Sugar added Chocolate Bars. All made right here on Kauai by this family run business.