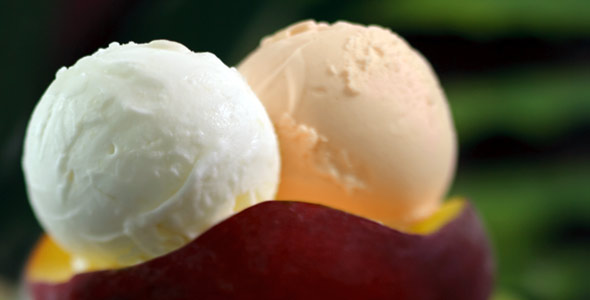 Discover Hawaiian Gelato
Eating Papalani Gelato® is like sending your taste buds on a vacation! We've mixed old-world Italian craftsmanship with the unique flavors of Hawaii to create one-of-a-kind frozen delights. Tropical ingredients like mango, coconut, macadamia nuts, papaya, and lychee meet traditional favorites like pistachio and fine Belgian chocolate in an explosion of smooth, dense, rich flavors.
Handmade in small batches each day from fresh, Hawaii-inspired ingredients, our gelato has been a hit with customers since we opened our first Papalani Gelato® shop in 2008.
Seasonally, we create flavors that take you on a culinary thrill ride. Try a free sample of one of our out-of-the-box flavors and get ready for the "oooo", "aaaahh" and "wow" that follow!
Savor these Amazing Gelato Recipes…
*Please note: the following flavors are rotating flavors and vary day by day, week to week, season to season.  NOT EVERY FLAVOR LISTED IS AVAILABLE EVERY DAY. 
Roll over the icons below to see which flavors are gluten-free or nut-free. And, if you're looking for a guilt-free pleasure, browse our sorbetto selection.
Banana Split
Like a sundae in a cone. Fresh bananas, macnuts, strawberries, and fudge.
Belgian Chocolate
Rich and decadent chocolate—best, finest chocolate gelato anywhere!
Caramel MacNut
Rich caramel with macadamia nuts. A Hawaiian favorite!
Cheesecake
Made with the finest mascarpone cheese.
Chocolate Banana
Fresh bananas blended with decadent chocolate.
Chocolate Coconut
Rich dark chocolate with sweet and refreshing coconut.
Chocolate Hazelnut
Classic Italian flavor.
Chocolate Peanut Butter
So much better than a peanut butter cup candy!
Coconut/Haupia
Hawaiian favorite. Sweet and refreshing like the trade winds!
Coconut MacNut Fudge
Rich fudge sauce and our sweet and refreshing coconut.
Green Tea
Pure Green Macha Tea.
Hawaiian Cheesecake
Tartness of lilikoi (passion fruit) cut with Italian mascarpone cheese!
Honu Chocolate
Hawaiian Turtles—dark chocolate gelato, caramel, and macnuts.
Kalaheo Cookies
Biscotti cookie flavor with a dark chocolate hazelnut cookie sauce.
Kauai Crunch
Caramel, macnuts, chocolate cookie sauce, and coconut—our mixed plate. EPIC!
Kona Coffee
100% Kona Coffee beans cold brewed for 24hrs., delights the palate.
Lava Flow
Coconut, pineapple, and strawberry sauce—like you're watching a sunset.
Macadamia Nut Butter
Pure freshly made macadamia nut butter.
Maha'ulepu Mint Chip
Refreshing mint and dark chocolate bits—as refreshing as the trades!
Mango Coconut
Sweet mango and coconut—Hawaii comes to you!
Oreos™ and Cream
The classic flavor done the Papalani™ way.
Papalani™ Pie
Espresso, coconut, espresso crunch, chocolate cookie sauce and more!
Pina Colada
Coconut and pineapple—a very popular tropical drink.
Pistachio
Pure Italian grown and roasted nuts—not green because we do not add color.
Salt Ponds
Salted butterscotch—rich and creamy with just the right saltiness. A CULT FAVORITE
Stracciatella
Classic Italian flavor—sweet and creamy with dark chocolate bits.
Vanilla Bean
Pure vanilla beans...no imitation vanilla here!