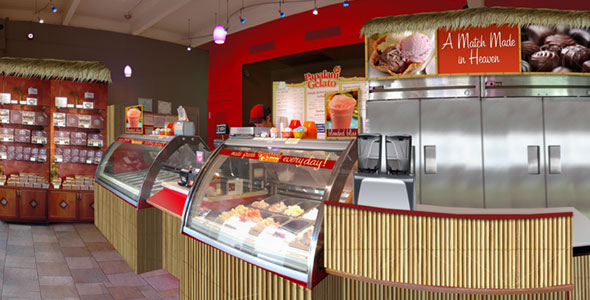 About Papalani Gelato®
Papalani Gelato® is a family-owned and operated purveyor of handmade Hawaiian style Gelato, Gelato Cakes, Gelato Cookie Dough and Chocolate Chip Cookie Sandwiches, and Gelato Shakes and Sorbetto Smoothies.  We are dedicated to sharing our hand-crafted artisanal Hawaiian inspired Gelato with customers from around the world. Many customers rave that Papalani™ has the best Gelato (Italian style ice cream) in the nation!
The Papalani Gelato® Mission:
Our mission is to create unique flavors using all natural and organic ingredients. We make our product by hand every day in our store. We use as many local ingredients as possible in every pan we make. When visiting our store, you will find familiar flavors of gelato, but many flavors which are unique to our kitchen. We believe using fresh local ingredients and making our gelato fresh every day differentiates from any other frozen dessert business on Kauai. We accomplish these things in an environmental friendly and sustainable manner.
The Papalani Gelato® Values:
Papalani Gelato® is very mindful of the footprint of its business activities, and is committed to developing practices in harmony with the environment and community. As food producers, we respect our sources and choose ingredients that are sound, seasonally produced, and local whenever possible.
Identify and leverage sustainable business practices

Buying as many local products as possible to reduce transportation and fuel costs as well as to support the Kauai and Hawaii economy

Reusing gelato display pans

Utilizing energy efficient equipment

Support local organizations and groups which share our values