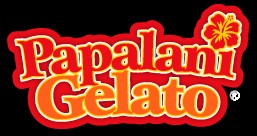 We are pleased to announce our newest addition to our line of authentic handmade gelato. Currently available at our Hawaii locations. Coming to Florida soon.
PRESS RELEASE
Contact:
Marck Shipley
CEO
Papalani Gelato Franchise Operating Company, LLC
808.742.2663
info@papalanigelato.com
FOR IMMEDIATE RELEASE
GELATO FRANCHISE RELEASES LINE OF ORGANIC, NON-GMO SORBETTO
Lawai, Hawaii — Nov. 7, 2014 — National gelato company Papalani Gelato Franchise Operating Company, LLC is pleased to announce the release of a new organic sorbet product.
Papalani Gelato®, the first national gelato brand to offer organic products free of genetically modified organisms (GMOs), is releasing a new line of organic sorbetto. Sorbetto is a dairy-free, gluten-free, GMO-free and vegan dessert made only with real fruit and wholesome natural ingredients. Our sorbettos are dairy free, gluten free, and full of flavor.
Smooth, silky and soft, sorbetto contains very little air, which gives it a dense, creamy, "ice-free" consistency. Papalani Gelato's® sorbetto is available in a variety of delicious flavors, including banana, chocolate banana, pineapple, mango, strawberry, dark chocolate, papaya and several others. You can see all the flavors offered of organic and conventional flavors at Our Sorbetto Page.
"We are proud to be one the first national frozen dessert companies to introduce a line of organic frozen desserts," said Marck Shipley, CEO for Papalani Gelato®. "Consumers today are demanding healthier alternatives, including natural and organic and non GMO products. We worked hard to create a line of products that is as healthy and wholesome as it is delicious."
In addition to creating a line of frozen desserts that is organic and free of GMOs, Papalani Gelato® adheres to environmentally sustainable business practices and community involvement. They make sure the ingredients in their products are sound, seasonally produced and locally sourced whenever possible to reduce transportation and fuel costs as well as to support the Kauai and Hawaii economy.
About Papalani Gelato®
Papalani Gelato Franchising Company is a family-owned and operated franchisor of handmade Hawaiian style gelato, coffee, and chocolate shops. They are dedicated to sharing their hand-crafted, artisanal, Hawaiian-inspired gelato, coffees, and chocolates throughout the state of Hawaii and beyond. Customers rave that Papalani has the best gelato and chocolate in the nation.
Papalani Gelato® is committed to growing the market for artisan-made products, improving the health of consumers by creating and marketing products that satisfy the desire for sweet and creamy frozen treats in a healthful manner, and supporting the economic development of communities. They accomplish these things in an environmentally friendly and sustainable manner. Papalani offers opportunities for small business ownership across the country. They currently have locations in Hawaii and Florida. For details about franchising opportunities, go to Our Gelato Franchise Page.
Learn more about Papalani Gelato at https://papalanigelato.com. Follow Papalani Gelato on Facebook, YouTube, Twitter and Pinterest.
# # #