Eat local – for many more reasons than you think!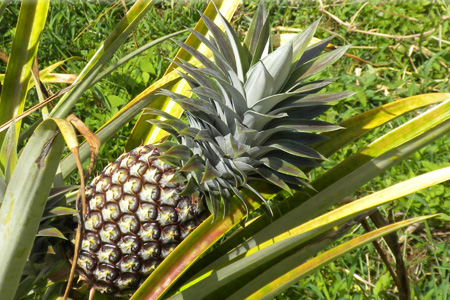 When anticipating your visit to Kauai, Hawaii what images some to mind? Surely beaches, green jagged peaks perhaps, tropical flowers, the aroma floating through the air, and to many like us, wonderful fruits, coffee, chocolate, fish, and other Hawaiian grown food products. Hawaii is not only a paradise for those seeking relaxation and sun, but for those who believe the food and the way it is grown and made helps you to understand the culture of the place you are visiting.
While here, many visitors will seek out Kauai's Sunshine markets. There is one held almost every day on the island. These markets feature locally grown fresh fruits and vegetables. Many are picked the day of or before the market enabling you to get some of the world's best fruit and vegetables at the peek of freshness.
Freshness Matters
Consider most of the produce used in restaurants and available in local grocery stores are shipped in from the mainland. The time it takes a product to go from port on the mainland to Kauai is a minimum of 8-10 days. That does not count the time from the field to the port on the mainland and the time from port onto Kauai to where ever it is being served. When on Kauai, you could buy fruit or veggies from a local farmer selling freshly harvested products, or you can buy fruits and veggies from a store that are at least 2 weeks old and likely treated to retain color and freshness.
Impact to Local Economy
When you buy something from a local farmer, your dollars stay on Kauai and provide a positive legacy from your visit. Remote rural communities like Kauai depend on small businesses like growers and farmers to survive. You can help the island's ability to become sustainable with each purchase. You also are getting the best products available on the island. The impact of your decision to buy from local businesses and growers has a significant financial impact.
According to Time Magazine:
At the most basic level, when you buy local more money stays in the community. The New Economics Foundation, an independent economic think tank based in London, compared what happens when people buy produce at a supermarket vs. a local farmer's market or community supported agriculture (CSA) program and found that twice the money stayed in the community when folks bought locally. "That means those purchases are twice as efficient in terms of keeping the local economy alive," says author and NEF researcher David Boyle
While many people who visit may not be thinking about helping our island and it's people out, buying from local markets and businesses is a win win. Since we are so far from everything and it takes so long for food products to arrive, the more local products you enjoy, you are getting healthier and better tasting items. I mean seriously, at home would you go into a grocery store and buy fresh food and put it in your refrigeration for two weeks and then eat it? If you would not do that at home, why would you want to pay for something treated exactly the same way.
Other Markets on Kauai
The Kauai Farm Bureau sponsors a Saturday Market at Kauai Community Collage on Saturdays. This market features both small local food producers (cheese makers, coffee roasters, pasta makers, pie bakers, etc) along with growers and farmers. This is a great market and we recommend it in addition to a Sunshine Market.